Race leader Armel Le Cléac'h has around 100 miles and probably one more gybe to do before he passes Cape Horn in the lead of the Vendée Globe. Le Cléac'h is more than 600 miles ahead of Alex Thomson. The French skipper is still expected at Cape Horn around midday French time (1100hrs UTC) and at that time Alex Thomson (Hugo Boss) in second place will be sailing upwind.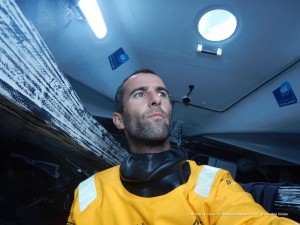 Thomson has had another slow spell, fighting his way out of the messy low pressure centre which has stalled his fast speeds for three days, but he should break into contrary, easterly winds this morning. He is anticipated to be at Cape Horn in the afternoon on Christmas Day.
Otherwise it has been a night of repairs and making good for certain skippers who took advantage of amenable breezes. Jérémie Beyou (Maître CoQ) made good on a penalty given to him by the International Jury for breaking an engine seal in the Indian Ocean. Beyou was given a segment of ten miles to sail back and forth on for two hours, making no net gain in the course direction, which he fulfilled around 2200hrs. Around the same time some 4000 miles behind him, Fabrice Amedeo (Newrest Matmut) was sailing directly downwind seemingly making a repair to his mainsail which had a large gash in it between the second and third reef. Amedeo is back to course this morning, making 10kts. And Arnaud Boissières (La Mie Câline), who had sailed north to find ideal conditions, was repairing his mainsail track on his mast and making good on a series of other small repairs. Of Beyou's penalty race director Jacques Caraës, who administers and monitors the Jury's decision, explained: "Early in the Indian Ocean, Jérémie fell down and accidentally put his propeller in gear breaking the seal on the engine. He took advantage of some light conditions (5-10 knots of wind) to halt his progress for two hours before setting off again eastwards," Beyou is advancing slowly this morning as he has entered a transition zone.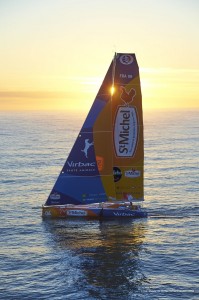 Conditions are also light for Jean-Pierre Dick (StMichel-Virbac), who is sailing in a disturbed weather system. He will probably have to wait until Sunday afternoon to find stronger winds. Weather models show him reaching Cape Horn in around six days, on Thursday 29th December. Still close together, Yann Eliès (Quéguiner-Leucémie Espoir) and Jean Le Cam (Finistère Mer Vent) have been able to narrow the gap on Dick. At 0400 UTC this morning, Eliès was only 137 miles from Dick, compared with 250 at the same time yesterday. Louis Burton (Bureau Vallée), Nandor Fa (Spirit of Hungary) and Conrad Colman (Foresight Natural Energy) are very much alone but for those chasing them the gaps are closing. The margin has narrowed between Arnaud Boissières (La Mie Câline) and the four behind. Arnaud Boissières: "It's funny seeing other competitors sailing on boats with a lot of potential. This situation motivates me and encourages me after some difficult days with lots of odd jobs to do. My rivals should be able to take advantage of their position south to regain some ground. But the race is long and there will be plenty of other opportunities."
Eric Bellion (CommeUnSeulHomme) is clearly in good shape. He was the fastest over the past 24 hours and has moved up a place ahead of Irishman, Enda O'Coineen (Kilcullen Voyager-Team Ireland). Eric is now chasing after the young, Swiss sailor, Alan Roura (La Fabrique). Rich Wilson (Great American IV) has also lost some ground in the past few hours. While Arnaud Boissières is now part of the group of five, the gang does not appear to be as united now… As the leader prepared to pass Cape Horn, four competitors still have not passed Cape Leeuwin, the south-western tip of Australia: Pieter Heerema (No Way Back), Didac Costa (One Planet One Ocean), Romain Attanasio (Famille Mary-Etamine du Lys) and Sébastien Destremau (TechnoFirst-faceOcean).
Quotes:
Arnaud Boissières (La Mie Câline): "I have had lots of little jobs to do over the past few days. I managed to repair my batten and my head board. I had to bring down the mainsail four times. It takes a lot of time and energy. I felt low physically and mentally. Now I'm feeling fine and am hoping that these problems are behind me. I'm taking advantage of some fine weather. It's a bit like sailing off Les Sables d'Olonne. Entering the Pacific will be symbolic – the end of the Indian and the halfway point. It is encouraging to be able to say that I'm on my way home to Les Sables. But there's still plenty to deal with in the Pacific."
Source: Vendee Globe
600
true
thumbnails
bottomright
300
true
800
none

600
true
dots
under
150
true
800
https://www.sualtigazetesi.com/wp-content/plugins/thethe-image-slider/style/skins/white-square-2
5000

fade

https://www.sualtigazetesi.com/deniz-kuvvetleri-kupasi-oncesi-murat-tan-atilla-gokova-yaris-ekibi-roportajlari/

5000

fade

https://www.sualtigazetesi.com/tayk-sunum-kuzey-kutup-dairesinden-guney-kutup-dairesine-gronland-ve-antarktika-prof-dr-talat-kiris/

5000

fade

https://www.sualtigazetesi.com/dadd-sunum-her-yonuyle-teknede-enerji-ve-enerji-sistemleri-zafer-turkmen/

5000

fade

https://www.sualtigazetesi.com/riza-epikmen-schuco-bayk-kis-trofesi-2-ayak-yarislari-oncesi-duygu-ve-dusunceleri/

5000

fade

https://www.sualtigazetesi.com/the-bodrum-cup-turkiyeyi-yelkencilik-dunyasinda-temsil-etti/

5000

fade

https://www.sualtigazetesi.com/banu-oney-ile-denizden-denize-marmarisden-seattlea-yelkenli-tekne-ile/

5000

fade

https://www.sualtigazetesi.com/rsx-kadinlar-sinifinda-2020-tokyo-olimpiyat-oyunlari%e2%80%99ndayiz/