Vendée Globe pacemaker Armel Le Cleac'h anticipates rounding Cape Horn sometime after December 22nd but, now with a lead of 360 miles over Briton Alex Thomson (Hugo Boss) the solo skipper of Banque Populaire VIII reflected early this morning on his progression over three consecutive editions of the famous non stop solo race around the world. "It will be nice to round the Horn in front, as eight years ago, I was third and four years ago in second place, so I'm making progress. I hope to get to see it. Four years ago, we were busy watching out for icebergs, that was a nasty surprise."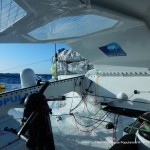 Le Cléac'h has been second in the Vendee Globe twice in a row. In 2008-9 he benefited when Roland Jourdain, who was second, pulled out at the Azores because he had lost his keel. Le Cléac'h has earned a few more miles on Thomson for three points as he has done during each of the last three days. A messy transition zone has hampered Hugo Boss while the Breton Le Cléac'h has a NW'ly airstream this morning and is eking out miles. By Cape Horn this advance could be as much as two days. Meanwhile Thomson's margin back to third place has stabilised again, at some 865 miles. Both are now in lighter winds and making 11-12kts. To get to Cape Horn, Armel Le Cléac'h is going to have to find a way to deal with the high, which is generating a moderate westerly air stream and make the connection with a low that is forming at 60°S. If he does make it, which is not going to be that easy, he should be able to speed towards 56°S to enter the Drake Channel and finally leave the Southern Ocean behind.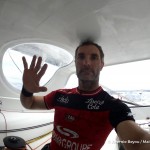 Jérémie Beyou (Maître CoQ) is also making nice progress and has taken over third place from Paul Meilhat (SMA), Beyou now 16 miles ahead. The two skippers are following the same trajectory between the huge low behind them and the front that is breaking down in front of them. They have 4000 miles of the Pacific ahead of them before they get to Cape Horn. For the three following them, the problem is not the same. Jean-Pierre Dick (StMichel-Virbac) is speeding down from the NW and may well overtake Yann Eliès (Quéguiner-Leucémie Espoir) as they pass Campbell Island, while Jean Le Cam (Finistère Mer Vent) is already thirty miles behind the skipper from Nice in terms of distance to the finish.
All eyes are now on the pack, as a nasty low-pressure system is passing NW of the Kerguelens offering heavy cross seas and winds in excess of forty knots. This morning it is Conrad Colman (Foresight Natural Energy) the fastest in the fleet at 17.7 kts, and Arnaud Boissières (La Mie Câline) who are experiencing the strongest of these NNW'ly gales, while Fabrice Amedeo (Newrest-Matmut) is already behind this violent front. As for Rich Wilson (Great America IV), he will be the most exposed later this morning with a 40-knot SW'ly dragging on behind the low. Alan Roura (La Fabrique) and Enda O'Coineen (Kilcullen Voyager-Team Ireland) will be the next on the list…
Quotes
Armel Le Cléac'h (Banque Populaire VIII) : "We have light conditions here in the Pacific, but it varies a lot, as yesterday we had squalls up to 25 knots. It's calmed down a bit since yesterday evening, but we're still slower than expected. There is a wind hole behind me and I can't afford to slow down. I'm in the high after crossing the front 24 hours ago. I still have a NW'ly so am taking advantage of that. I'm trying to get to a low ahead of us and it's going to be close whether I get there. The weather models are changing all the time. The target is Cape Horn, but I don't know how we're going to get there. I should get there on around the evening of 22nd. But it could be after that. In any case, before Christmas. Four years I passed it on New Year's Day with François (Gabart), but we started four days later from Les Sables d'Olonne."
Source: Vendee Globe
600
true
thumbnails
bottomright
300
true
800
none

600
true
dots
under
150
true
800
https://www.sualtigazetesi.com/wp-content/plugins/thethe-image-slider/style/skins/white-square-2
5000

fade

https://www.sualtigazetesi.com/deniz-kuvvetleri-kupasi-oncesi-murat-tan-atilla-gokova-yaris-ekibi-roportajlari/

5000

fade

https://www.sualtigazetesi.com/tayk-sunum-kuzey-kutup-dairesinden-guney-kutup-dairesine-gronland-ve-antarktika-prof-dr-talat-kiris/

5000

fade

https://www.sualtigazetesi.com/dadd-sunum-her-yonuyle-teknede-enerji-ve-enerji-sistemleri-zafer-turkmen/

5000

fade

https://www.sualtigazetesi.com/riza-epikmen-schuco-bayk-kis-trofesi-2-ayak-yarislari-oncesi-duygu-ve-dusunceleri/

5000

fade

https://www.sualtigazetesi.com/the-bodrum-cup-turkiyeyi-yelkencilik-dunyasinda-temsil-etti/

5000

fade

https://www.sualtigazetesi.com/banu-oney-ile-denizden-denize-marmarisden-seattlea-yelkenli-tekne-ile/

5000

fade

https://www.sualtigazetesi.com/rsx-kadinlar-sinifinda-2020-tokyo-olimpiyat-oyunlari%e2%80%99ndayiz/