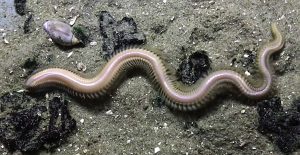 DAWN GIBSON
At a certain time of year, an unusual, alien-like phenomenon moves in the shallow waters of Vancouver Island.
In the Facebook group, Field Naturalists of Vancouver Island, someone shared a special sighting of swimming polychaetes in the waters off East Sooke. Louise Page, who teaches invertebrate biology and marine biology at the University of Victoria, identified the giant swimming worms to likely be Nereis brandti, also known as the "giant piling worm" or "giant clam worm."
"Nereis brandti is huge, growing up to a foot in length," said Page. "They typically live buried in the sand during the year."
READ ALSO: Wayward cows milk sudden freedom on B.C. lawns and doorsteps
Page noted the video posted in the Facebook group, which featured multiple worms, was "fascinating behavior," as they tend to only come up once per year to mate.
"This behaviour, which is called swarming, is triggered by a lunar cue. They all swim up into the water column, males and females at the same time, same place, and have a big orgy up there," said Page with a laugh. "They release eggs and sperm, and very rapidly, little larvae develop and start to feed on phytoplankton."
Typically the worms mate during spring or summer, when there is lots of phytoplankton for the larvae to feed on. After metamorphosis, they will usually feed on kelp, but some species also feed on other animals.
These curious worms, which resemble giant centipedes, develop multiple pairs of appendages, which stem off body segments. Each segment contains a little kidney and gonads, and eventually when the larvae become mature enough, they lose the appendages and become animals that burrow in the sands.
Source: https://www.vancouverislandfreedaily.com/
600
true
thumbnails
bottomright
300
true
800
none

600
true
dots
under
150
true
800
https://www.sualtigazetesi.com/wp-content/plugins/thethe-image-slider/style/skins/white-square-2
5000

fade

https://www.sualtigazetesi.com/tayk-sunum-kuzey-kutup-dairesinden-guney-kutup-dairesine-gronland-ve-antarktika-prof-dr-talat-kiris/

5000

fade

https://www.sualtigazetesi.com/dadd-sunum-her-yonuyle-teknede-enerji-ve-enerji-sistemleri-zafer-turkmen/

5000

fade

https://www.sualtigazetesi.com/riza-epikmen-schuco-bayk-kis-trofesi-2-ayak-yarislari-oncesi-duygu-ve-dusunceleri/

5000

fade

https://www.sualtigazetesi.com/the-bodrum-cup-turkiyeyi-yelkencilik-dunyasinda-temsil-etti/

5000

fade

https://www.sualtigazetesi.com/banu-oney-ile-denizden-denize-marmarisden-seattlea-yelkenli-tekne-ile/

5000

fade

https://www.sualtigazetesi.com/rsx-kadinlar-sinifinda-2020-tokyo-olimpiyat-oyunlari%e2%80%99ndayiz/