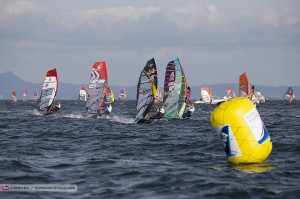 Day 2: Cousin Questel Edges Tough Battle Against Erdil to Earn Early Event Lead, While Albeau Wins Opening Foil Race
The forecast wind for day two of the 2018 Fly! ANA PWA World Cup arrived during the early afternoon allowing results in the Women's Slalom and Men's Foil to be gained in light winds. Delphine Cousin Questel (Starboard / S2Maui) won an exciting final ahead of Lena Erdil (Starboard / Point-7 / AL360) to take the early event lead in the Women's division, while Antoine Albeau (RRD / NeilPryde) heads up the Foil rankings at the end of day two.
Slalom
Women's
All of last year's top seeds successfully qualified for the opening winners' final of the year after avoiding any major upsets in either the quarter or semifinals.
Into the final and it was Lena Erdil (Starboard / Point-7 / AL360), who made a flying start to lead into the first mark ahead of her biggest rival Delphine Cousin Questel, but that would soon change as Erdil made an uncharacteristic rookie error of heading to the wrong mark, which opened the door for Cousin Questel, who soon manoeuvred herself into the lead as she took full advantage of the opportunity presented before her.
The top two seeds would then enjoy a cat and mouse battle until the end as Erdil dove down the inside of Cousin Questel at the third, only for Cousin Questel to regain the lead almost immediately thanks to her better line into, and out of the gybe. The former two-time world champion then made no mistake around the last to earn her first bullet of the season – leaving Erdil to settle for second. Meanwhile, Marion Mortefon (Fanatic / NorthSails) – 3rd overall in 2017 – completed the top 3, as last year's top seeds dominated the opening elimination of 2018.
Meanwhile, 17-year-old Lilou Granier (Severne Sails) made an excellent start to the event as the New Caledonian claimed 4th place ahead of Fulya Ünlü (Starboard / Point-7) in 5th. The young Turk had looked in terrific form as she won both her quarterfinal and semifinal in convincing fashion. Based on today, Ünlü looked much more like the promising young talent that saw her crowned Youth PWA World Champion for 3 successive years – 2014-16 – and she'll look to use today's bright start to bounce back from a slightly disappointing campaign last year when she finished 13th overall.
Men's
The opening 7 heats of the men's first elimination were also completed before the increasingly patchy winds brought an end to the racing for day two, but with an excellent forecast for Saturday that should be completed on tomorrow.
Ethan Westera (Tabou / GA Sails) and Taty Frans (Starboard / GA Sails) were both making their returns from serious injuries that they suffered in Fuerteventura and both men were involved in the opening heat, which they both breezed through in 1st and 2nd place.
However, it was Westera who enjoyed the better day as the 20-year-old also won Heat 5 to book his place in the quarterfinals – along with Basile Jacquin (RRD / Point-7), Valentin Brault (JP / Simmer / Chopper Fins) and Andrea Rosati (RRD / Loftsails), who did brilliantly to deny Frans by securing the final qualifying position. The Bonairean will now have to hope for at least 4 eliminations to be completed so that he can discard his opening result of the event.
Elsewhere, Finian Maynard (I-99), who announced that this will be his final full season of racing, after 25 years on tour, made a successful start to his campaign by winning Heat 3, before finishing second behind Andrea Ferin (RRD / Challenger Sails / AL360) in Heat 7 to progress into the quarterfinals alongside Sebastian Kornum (JP / NeilPryde) and Malte Reuscher (Fanatic / NorthSails), who finished 3rd and 4th respectively.
In the other second round heat, Heat 6, Amado Vrieswijk (JP / Severne) dominated proceedings as he led from start to finish to claim an impressive victory ahead of Gabriel Browne (Goya Windsurfing / Point-7), Ben van der Steen (I-99 / Gun Sails) and Steve Allen (Patrik / Severne) – all of whom qualify for Heat 10.
Heat 8 was started, but couldn't be completed, so that will be the first heat on the agenda when the slalom restarts – after which the top seeds will enter the fray for the first time this season.
Foiling
Antoine Albeau won the opening foil race of the week ahead of Gonzalo Costa Hoevel (Starboard / Severne / Chopper Fins) and former Olympic vice-champion – Julien Bontemps (JP / NeilPryde) after calculating his lay lines perfectly to out manoeuvre the Argentine.
The forecast for tomorrow looks very similar to today, which should hopefully guarantee more racing. The skippers' meeting has been called for 10am with the action commencing from 11am (GMT+9) onwards – depending on the conditions.
To stay up to date with all the latest developments from Japan — including the live stream, elimination ladders, entry list, images and live ticker simply click HERE and scroll to the bottom of the page.
Current Ranking 2018 Fly! ANA Yokosuka PWA World Cup – Women's Slalom
1st Delphine Cousin Questel (Starboard / S2Maui)
2nd Lena Erdil (Starboard / Point-7 / AL360)
3rd Marion Mortefon (Fanatic / NorthSails)
4th Lilou Granier (Starboard / Severne)
5th Fulya Ünlü (Starboard / Point-7)
6th Esther de Geus (Fanatic / NorthSails)
7th Jenna Gibson (Fanatic / NorthSails)
8th Maëlle Guilbaud (Patrik / Loftsails)
Current Ranking 2018 Fly! ANA Yokosuka PWA World Cup – Men's Foil
1st Antoine Albeau (RRD / NeilPryde)
2nd Gonzalo Costa Hoevel (Starboard / Severne/ Chopper Fins)
3rd Julien Bontemps (JP / NeilPryde)
4th Alexandre Cousin (Patrik / GA Sails / Chopper Fins)
5th Mateus Isaac (JP / NeilPryde)
6th Cedric Bordes (Tabou / GA Sails)
7th Antoine Questel (Starboard / S2Maui)
8th Matteo Iachino (Starboard / Severne / Shamal Sunglasses)
9th Sebastian Kördel (Starboard / GA Sails)
10th William Huppert (Fanatic / NorthSails)
Source: PWA
600
true
thumbnails
bottomright
300
true
800
none

600
true
dots
under
150
true
800
https://www.sualtigazetesi.com/wp-content/plugins/thethe-image-slider/style/skins/white-square-2
5000

fade

https://www.sualtigazetesi.com/dadd-sunum-her-yonuyle-teknede-enerji-ve-enerji-sistemleri-zafer-turkmen/

5000

fade

https://www.sualtigazetesi.com/riza-epikmen-schuco-bayk-kis-trofesi-2-ayak-yarislari-oncesi-duygu-ve-dusunceleri/

5000

fade

https://www.sualtigazetesi.com/the-bodrum-cup-turkiyeyi-yelkencilik-dunyasinda-temsil-etti/

5000

fade

https://www.sualtigazetesi.com/banu-oney-ile-denizden-denize-marmarisden-seattlea-yelkenli-tekne-ile/

5000

fade

https://www.sualtigazetesi.com/rsx-kadinlar-sinifinda-2020-tokyo-olimpiyat-oyunlari%e2%80%99ndayiz/