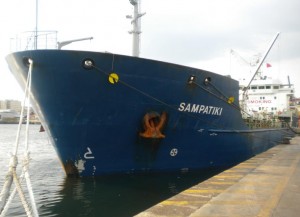 Five crew members have been kidnapped from a 6,436 dwt tanker after pirates attacked the vessel offshore Niger Delta, Nigeria on March 26, according to the UK-based security broker agency Asket.
At least eight pirates boarded the chemical tanker MT Sampitiki after midnight and remained onboard the vessel for four hours, after which they departed the ship with hostages.
The 2008-built vessel reported the attack, which occurred some 30 miles off the coast of Bonga, via VHF.
Asket added that there were no injuries reported to the remaining crew members, however, the pirates damaged some of the equipment aboard the tanker.
MT Sampitiki sailed to the port of Lagos after the incident, AIS data shows.
At the time of the incident the Liberia-flagged tanker was on its way from the Nigerian port Harcourt to the port of Luba in Equatorial Guinea.
Source: http://worldmaritimenews.com/
600
true
thumbnails
bottomright
300
true
800
none

600
true
dots
under
150
true
800
https://www.sualtigazetesi.com/wp-content/plugins/thethe-image-slider/style/skins/white-square-2