Debuted in 1907 and raced in the Olympics 100 years ago, 8-Metres remain one of sailing's most majestic international classes. With 45 feet of sleek, sexy lines, displacing 20,000 pounds and sailed with a crew of six, they require finesse and strength in all conditions. "People think of it as an old class, but they're really high-tech racing machines," says 8-Metre devotee Richard Self. "They just don't go that fast."
The class experienced a renaissance three decades ago, and of 500 8-Metres built over the past century, roughly one-third continue to carve ­sweeping wakes wherever they race. On the racecourse, they're grouped in two divisions: classics and modern (post-1968).
Each boat is a work of art, so they're raced with gentlemanly preservation in mind. "You rely on the skill set of the sailors," says Self. "Getting close to one another and yelling really doesn't accomplish much."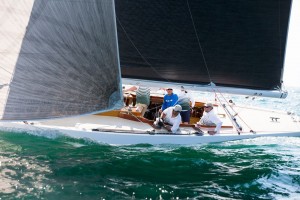 Generational Shift
At an age when other young men are tearing about on high-­performance skiffs or ­jumping off cliffs in a flying-­squirrel suit, "Little John" Mitchele's obsession lies with old boats. "I like going fast," he says, "but I have a real passion for ­classic boats. I love the 8-Metre fleet. I ­absolutely adore it."
Mitchele was days old when his ­parents, Heather Ann and John Mitchele, first took him sailing on Thisbe in May 1999. A recent high school graduate, he has his eye on his own 8-Metre. "It needs some love," he admits, of the object of his affection. The hardest chore though, he says, will be getting the family's blessing to branch out on his own. He's third generation on Thisbe, once skippered by his grandfather Richard and now his father. "Sometimes we butt heads — and when I say sometimes, I mean all the time," quips Little John. "I'm pretty sure this is my last year doing a whole ­season on Thisbe."
He describes ­himself as "a very old soul," playing blues, funk and soul on his guitar. And he ­simply can't get enough of these enduring 8-Metres. "It's a class of its own and such an awesome thing," he says. "If we can keep building it up, the class can keep going strong."
"He'll be one of the mainstays and driving forces of this fleet long after the rest of us are gone," says Self. "A lot of ­teenagers go off on other ­adventures, but this is his adventure."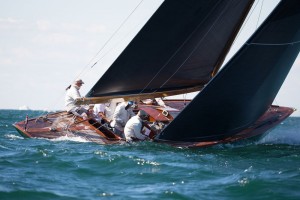 The King Competitor
Sailing is the king of sports, and the sport of kings. King Harald, of Norway, was lauded for making a concerted effort to attend the 2016 8-Metre World Championships in Toronto as an ambassador for the 2017 World Championship in Fredrikstad, Norway. The 2017 event will also mark the King's 80th birthday. "It's going to be fun, and quite laid-back," says King Harald. "It's a small community, a small island and a small club, with a big porch so we can all gather there."
In Toronto he raced the distinctive green-hulled 8-Metre Sira, originally his father King Olav's. It was transported across the Atlantic on a specially built cradle on 80-meter Royal Yacht K/S Norge, which graced the Toronto waterfront, and where King Harald admitted he was "on vacation."
"One of the things I like about sailing is, to the wind, it doesn't make any difference who you are or what you are — the wind blows on everybody the same way. You have to figure it out."
His lifelong ­passion for sailing stems from a familial ­competitive streak. "I like the competition more than I like sailing," he admits. "It's what spurs me on. I never go sailing to go on a cruise. If I go ­sailing, it's for racing or for training for a future event." Royalty or not, his competitors treated him as an equal on the 8-Metre racecourse — to an extent. "As I see it, he's on vacation from being a king; he wants to be a regular person when he's sailing," says Little John Mitchele. "So I like to scare him a little bit."
"That is a boat you just definitely don't want to hit," Mitchele's father counters. "We had a ­port-starboard, and we were on port, and my son gave me hell for missing him by more than a boat length. But my brother agreed with me: 'That was exactly the right distance to miss him by.' Maybe he got a tiny bit of preferential treatment, but not enough to make a ­difference."
Respectful Rivals
"We're coming after you, you bastards," hollers Richard Self, from the deck of Gefion, as they beat toward the ­windward mark. Hollandia, the newest of the 8-Metres, crossed well ahead of them. "Again," says Self. "I just thought I'd let them know we were still racing."
Rivalries in this class are intense and convivial at the same time. "We are kindred spirits," says Self. "We are people who love racing sailboats, beautiful sailboats, and that makes for great racing and great camaraderie."
Gefion is Self's 1987 Ed Dubois design, but he and a partner also maintain Raven, a 1938 classic, overseas. Later, as Gefion arrives at the dock, Hollandia is already tied up and put away, and the jovial skipper ribs his competitors: "Hey, did you guys ever leave the dock?"
"Our philosophy on Gefion is you race with and against your friends," says Self. "They might happen to be some of the best sailors in the world, but foremost, they're your friends. And that attitude creates a different atmosphere here."
Hollandia went on to win the World Cup, and Bangalore edged out the King in the Classics Fleet, earning the Sira Cup trophy.
The Royal Venue
Light air elicits a dock hold on the third day of the regatta, and crews linger at the long tables that fill the Royal Canadian YC's lush green lawn. Later in the day, the crew of Lafayette laments its results thus far in the regatta. Crowded around a trio of pitchers of beer, they tease: "This is what misery looks like …. We're on suicide watch …. We're switching sports to synchronized swimming." But in truth, the mood is merry.
The Royal Canadian YC's clubhouse is a rambling, white plantation-style building. Its wraparound veranda floors slope and creak from the weight and whispers of more than 100 years of ­sailors and their tales. The bucolic outpost complements RCYC's posh but landlocked downtown facility. Ferries take patrons to and from the trio of islands that houses the club, its docks and other amenities. Despite the somewhat exposed ferry passage across the inner harbor, a dress code is still enforced. Club members stroll in bowler hats and collared shirts: Combined with the Dixieland band that entertains competitors and guests on the lawn, and the whop-whop of ­rackets hitting tennis balls on the adjacent courts, it feels like a scene from The Great Gatsby.
Source: Sailing Word
600
true
thumbnails
bottomright
300
true
800
none

600
true
dots
under
150
true
800
https://www.sualtigazetesi.com/wp-content/plugins/thethe-image-slider/style/skins/white-square-2
5000

fade

https://www.sualtigazetesi.com/deniz-kuvvetleri-kupasi-oncesi-murat-tan-atilla-gokova-yaris-ekibi-roportajlari/

5000

fade

https://www.sualtigazetesi.com/tayk-sunum-kuzey-kutup-dairesinden-guney-kutup-dairesine-gronland-ve-antarktika-prof-dr-talat-kiris/

5000

fade

https://www.sualtigazetesi.com/dadd-sunum-her-yonuyle-teknede-enerji-ve-enerji-sistemleri-zafer-turkmen/

5000

fade

https://www.sualtigazetesi.com/riza-epikmen-schuco-bayk-kis-trofesi-2-ayak-yarislari-oncesi-duygu-ve-dusunceleri/

5000

fade

https://www.sualtigazetesi.com/the-bodrum-cup-turkiyeyi-yelkencilik-dunyasinda-temsil-etti/

5000

fade

https://www.sualtigazetesi.com/banu-oney-ile-denizden-denize-marmarisden-seattlea-yelkenli-tekne-ile/

5000

fade

https://www.sualtigazetesi.com/rsx-kadinlar-sinifinda-2020-tokyo-olimpiyat-oyunlari%e2%80%99ndayiz/