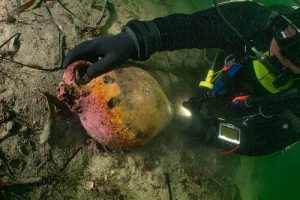 A 300-year-old Irish ship that ran aground after the crew got drunk was recently found by a group of divers off the coast of Mandal, Norway.
According to the ship pilot's written record, the entire crew had been drinking as they sailed The Providenz across the North Sea in November 1720. The waters were calm, but they still didn't make it all the way to shore.
The Providenz sank in shallow waters off the southern Norwegian coast. All crew members were rescued, along with the ship's anchor, sails and rigging.
For three centuries, The Providenz remained submerged in the cold Norwegian waters, hidden by only a several feet of water, until a group of divers from the Mandal Dive Club came across the ship.
The divers found a number of well-preserved artifacts, including a large clay pot, a chalk pipe, a few bottles and some porcelain.
"The bottom is full of beautiful objects [that are] completely intact," Ragnvald Eeg, one of the divers who inspected the wreck, tells NRK News. "It is incredible to find something like this."
Jørgen Johannessen, an archaeologist and researcher at the Norwegian Maritime Museum, echoes Eeg, telling NRK that everything is well preserved.
"There are very few [wrecks] in such good condition as this one," Johannessen says. "The jug does not have a single dent. Also, the ship is very whole to be so old. It makes the discovery very special."
Most of the artifacts found on the wreck will remain on the seafloor for divers to explore. A sign signifying the cultural significance has been mounted near the wreck to make it clear the area is protected.
"We know that such finds are very attractive to wreck-looters," says Frode Kvalø, another archaeologist at the Norwegian Maritime Museum. "At the same time, we think it's important that divers should be able to go down to see such wrecks."
Source: scuba diving
600
true
thumbnails
bottomright
300
true
800
none

600
true
dots
under
150
true
800
https://www.sualtigazetesi.com/wp-content/plugins/thethe-image-slider/style/skins/white-square-2
5000

fade

https://www.sualtigazetesi.com/tayk-sunum-kuzey-kutup-dairesinden-guney-kutup-dairesine-gronland-ve-antarktika-prof-dr-talat-kiris/

5000

fade

https://www.sualtigazetesi.com/dadd-sunum-her-yonuyle-teknede-enerji-ve-enerji-sistemleri-zafer-turkmen/

5000

fade

https://www.sualtigazetesi.com/riza-epikmen-schuco-bayk-kis-trofesi-2-ayak-yarislari-oncesi-duygu-ve-dusunceleri/

5000

fade

https://www.sualtigazetesi.com/the-bodrum-cup-turkiyeyi-yelkencilik-dunyasinda-temsil-etti/

5000

fade

https://www.sualtigazetesi.com/banu-oney-ile-denizden-denize-marmarisden-seattlea-yelkenli-tekne-ile/

5000

fade

https://www.sualtigazetesi.com/rsx-kadinlar-sinifinda-2020-tokyo-olimpiyat-oyunlari%e2%80%99ndayiz/