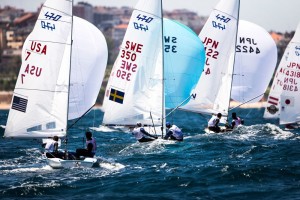 Young and new teams will take to the starting line and face off against the more experienced campaigners and big names in the fleet.
As the first World Championships of the four-year lead up to Tokyo 2020, the event will be a benchmark for teams seeking performance indicators as they come together in an international line-up.
One hundred and thirty-three teams have entered, with sixty teams in the 470 Women and seventy-three in the 470 Men.
Ahead of the 470 Worlds, the 470 Class Development Programme has been in full swing, with teams from Ecuador, Hong Kong, India, Philippines, South Africa and Thailand joining a coaching clinic.
Four-time 470 World Champion Sofia Bekatorou (GRE) has been busy transferring her knowledge and expertise.
"It has been really inspiring starting this new project with the 470 Class and supporting developing nations is something I have wanted to do for a long time," said Bekatorou.
"Having this opportunity is great. It is really nice to see the dreams in their eyes of participating in the Olympics. Putting the fundamentals in place and understanding the amount of work they need to put in to become really good sailors and perform has been part of this week's programme."
The Opening Ceremony tonight at the Naval Command of Northern Greece will formally kick off the Championships, ahead of racing scheduled to start tomorrow at 1200 hours.
Racing takes place on the Thermaikos Gulf with three races scheduled for the first day. The weather forecast indicates an increase in temperature on Monday and Tuesday, with the sea breeze filling in later in the day, around 1500 hours at the earliest.
Later in the week, as temperatures ease a bit, conditions will change. But whatever is served up, Thessaloniki is renowned for delivery a complicated and tricky race track, which will definitely test teams' all-round game.
About the 2017 470 World Championship
The 2017 470 World Championships is organized by Nautical Club of Thessaloniki in co-operation with the International 470 Class Association. Racing starts on Monday 10 July, with a 5 race qualification series and 6 race final series scheduled for the 470 Men and 470 Women fleets, before the top 10 teams advance to the final Medal Race on Saturday 15 July 2017.
All six continents are represented in the 32 nations competing at the 2017 470 World Championships: Australia, Austria, Chile, China, Ecuador, France, Great Britain, Germany, Greece, Hong Kong, Hungary, India, Israel, Italy, Japan, Korea, Malaysia, Netherlands, New Zealand, Philippines, Poland, Russia, Singapore, South Africa, Slovenia, Spain, Switzerland, Sweden, Thailand, Turkey, Ukraine, USA.
Races will take place over two race courses, for each of the men's and women's fleets.
Fleets will be seeded for the five race Qualification Series into yellow and blue fleets, before being split into gold and silver for the six race Final Series.
The top ten teams in the men's and women's fleets will advance to the Medal Races on Saturday 15 July 2017.
Schedule of Events
10-11 July 2017 – Qualification Series (5 races)
12-14 July 2017 – Final Series (6 races)
15 July 2017 – Medal Races, Closing Ceremony/Prize Giving
Source: Sailing World
600
true
thumbnails
bottomright
300
true
800
none

600
true
dots
under
150
true
800
https://www.sualtigazetesi.com/wp-content/plugins/thethe-image-slider/style/skins/white-square-2
5000

fade

https://www.sualtigazetesi.com/dadd-sunum-her-yonuyle-teknede-enerji-ve-enerji-sistemleri-zafer-turkmen/

5000

fade

https://www.sualtigazetesi.com/riza-epikmen-schuco-bayk-kis-trofesi-2-ayak-yarislari-oncesi-duygu-ve-dusunceleri/

5000

fade

https://www.sualtigazetesi.com/the-bodrum-cup-turkiyeyi-yelkencilik-dunyasinda-temsil-etti/

5000

fade

https://www.sualtigazetesi.com/banu-oney-ile-denizden-denize-marmarisden-seattlea-yelkenli-tekne-ile/

5000

fade

https://www.sualtigazetesi.com/rsx-kadinlar-sinifinda-2020-tokyo-olimpiyat-oyunlari%e2%80%99ndayiz/