MALAYSIA
Kapalai Resort – Malaysia
This resort is great for a romantic getaway, however I wouldn't recommend to go with young children. It is completely built on a coral reef, so there is no beach. Children have to run around and play and this resort is not suitable for this kind of activity. I think it's very likely that young children can fall into the sea, especially around the age of 3. Even if they're good swimmers, it can be an annoying experience for both parents and the child. I wouldn't recommend this resort if your children are between ages 1 and 5. Walking distances can also be very long here, so request a room close to the dive center if you're going with children.  We were there when our daughter was a baby, but I haven't had the courage to go there again since then.
Well, it's got its advantages too for sure. Since it's completely on the sea, you get a lot less mosquitoes than other resorts. Their house reef is great, so you can go on a quick house reef dive when the children are having an afternoon nap. Their rooms are giant,  you can comfortably fill the room with 3 suitcases, snacks, toys, books and you still have plenty of room to walk around.
You'll be gone for a whole day when you go to Sipadan, coming back usually around 2-3 pm. The other dive sites are quite close to the resort around 5-15 minutes, so you'll just be gone for the dive and come back to the resort.
You need to take everything you would need with you, especially medicine. The nearest place to go to a doctor or pharmacy is at Semporna which is around two hours away by boat.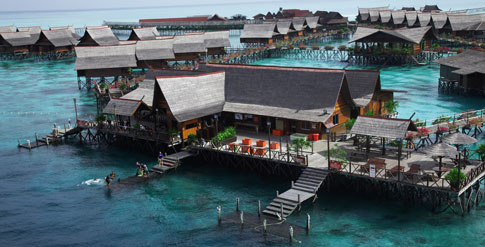 Borneo Divers – Mabul, Malaysia
This is the resort where I feel most comfortable with children. And I've got my reasons; first of all there is plenty of room for the kids to run around safely. They have a huge restaurant area and a TV/computer room where the kids can watch their DVDs or even get Disney Channel when it's too hot to play outside. There is also plenty of room for them to draw, play with modeling dough and board games. There is big beach where they can build sand castles and enjoy the sea. There is a small but lovely swimming pool which can be lifesaving when we feel too tired to take the kids snorkeling. Enjoying a beer at the pool bar at the end of the day is also great. The staff is lovely, they're great with children and even prepare special meals for them without us asking for it like spaghetti Bolognese and pizza (all time kid favorites).  They even have high chairs, so I can easily say that this is the most child friendly dive resort you can find.
I can't think of any disadvantages, to be honest. Yes, there are mosquitoes but not more than what we have here in Jakarta. It's a lovely resort to go with children. Same as Kapalai, you'll be gone for a day when you go to Sipadan. Borneo divers is one of the few resorts that offer 4 dives a day at Sipadan, so you'll be back to the resort around 4 pm, after 4 wonderful dives at Sipadan. Your kids will be happier when you're not at Sipadan, as the dive sites are quite close to the island. You'll only be away for the dive and come back to the resort after each dive.
You need to take everything you would need with you, especially medicine. The nearest place to go to a doctor or pharmacy is at Semporna which is around two hours away by boat.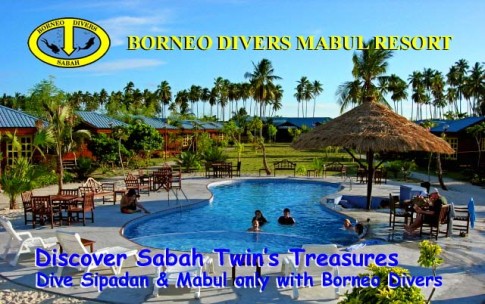 INDONESIA
Thalassa Diving, Santika Hotel – Manado
Santika is a huge hotel with a big pool and a small playground. There is a lot of room for the children to run around and play. We could also get nannies quite easily through Thalassa. Thalassa's boats are big enough for children to go if you are okay with it. Although there is no beach that the kids can play on sand, they love coming on the boat with us. Their jetty is lovely to swim when the boats are not there, but there isn't much to see snorkeling at the jetty. However, if you're willing to skip a dive, go on the boat and snorkel with your children, you can show them the tropical reef life very well.  My children saw napoleon fish, turtles and jacks in addition to all the colorful small reef fish and they were fascinated by the experience.
Depending on where the dive center plans to go, the boat may be out for 3 dives or come back to the dive center after each dive. So you need to check next day's plan with the dive center in advance. Thalassa is a child friendly dive center and they welcome kids on their boats. However, boats can be dangerous places for kids and it can be annoying for other divers to have children running around when they're trying to get ready to dive. The comfort of other divers is very important to us, so we wouldn't be taking kids on the boat if we think it would be inconvenient.
One important point is that the service at the restaurant of Santika is veeeeery sloooow. I'd recommend that you plan your children's meals an hour before they get hungry. Yes, it really does take an hour for the restaurant to bring your order sometimes. The staff is lovely, please don't treat them bad because of the slow food service. Just order early and avoid the tension. The food variety is good here, a good mixture of local and international cuisine. You can get fish and chips, fried rice, pasta, soups and all sorts of grilled meat. Don't forget to try their Soto Ayam. If you want a change, the hotel has a shuttle to Manado. I would strongly recommend to go to one of the nice seafood restaurants. There is also a Pizza Hut at the shopping mall.
You can do the Highland Tour with your children. I didn't take them to the local market where they sell the meat of all sorts of animals, but rest of the tour was fun, especially the waterfall.
Nearest place to go to a doctor or pharmacy is Manado, which is around 45 minutes away by car. There is a mall where you can get  lots of things a child may need, even toys.

KungKungkan Bay Resort – Lembeh
This is a lovely resort with a nice beach right in the front. Dive sites are very near, so you're not gone for too long on the dives. You can get nannies from the resort, but you'd better inform them in advance. When the resort is busy, it may be difficult to find someone. They have a pool as well which kids enjoy. There are usually strong currents in front of the resort, so never leave your children unattended at the beach or in the sea. Their restaurant is amazing and you can find lots of stuff you and your children will love. Their family rooms are big enough for a family of four. They have TVs at the rooms. They have a nice spa and although it's difficult to arrange the time when you have children with you, try to squeeze this into your plans. Both the dive center and the resort are run very professionally, so this is one of our favorite places to stay with or without children.
They offer a tour to see the Tarsus monkeys, but we never compromised diving. I'm sure it would be interesting, but I can't comment much since we've never done this tour.
Manado is around 1,5 hours away and Bitung is around 20 minutes away which is the nearest place to get a doctor or pharmacy.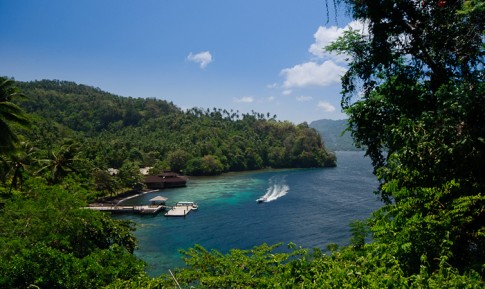 Raja Ampat:
Raja Ampat is a "must see" destination for all seasoned divers. It's one of the rare sanctuaries left on our tired planet. It's not so easy to reach these sacred seas though. You need to come to Jakarta first from wherever you are. Then take a long flight to Sorong which is usually via Makassar or Ambon. How long the boat ride to the island takes, depends on the sea conditions and which island you go. I've been to Kri and it took us around 2 hours.
For Raja Ampat, I would recommend to bring your own care taker with you. Locals are lovely people, very naïve, very special. But it is very difficult to communicate with them and even if you can speak their language, your requirements and requests will probably not make any sense to them. Having your own care taker will relieve a lot of worries over safety for you.
Raja Ampat is in the middle of a very diverse ecosystem. Resorts are located between the beach and the rainforest. I would advise to keep your children away from the forest and stay at the beach.  I think the main concern about Raja Ampat for a parent is the risk of malaria and dengue fever. As much as I dislike using mosquito repellent lotions on my children, this is one place you can't avoid these. You need to renew the lotion every 3 hours, as they're not effective after 2-3 hours. Don't forget to spray the rooms, before sleeping and then do your best to avoid mosquitoes under the bed net. I would also recommend packing light but long sleeved clothing for children.
The nearest place for a doctor or pharmacy is Sorong and there aren't transfers to Sorong from the islands very often. So you have to pack everything you may need.
Kri Eco Resort:
This resort is an eco resort as you can figure out from the name and facilities are very minimal. Rooms are built in Papuan style, completely out of wood. My second biggest concern here is that the rooms don't have toilets. There are shared toilets which are kept always clean. I'm not worried about the hygiene, but it's a nightmare to go to the toilet when nature calls in the middle of the night. Of course there are solutions like potties or even having them pee out of the balcony to the sea. I must admit, it's not very convenient when you're with children. Hot water is only available when there is a night dive. There is no fresh water here, you'll be using sea water during your stay. But it isn't as bad as it sounds.
Third concern I have is that balconies of the rooms don't have any rails and the rooms are built on the sea. I find this worrysome.
The food is local cuisine, but it's tasty. We take a lot of food with us usually, like small cartons of milk, cheese, olives, nuts, cookies and biscuits since there isn't any alternative to what's served. But you don't have to do that, the food is good enough. Especially their freshly baked homemade breads in the mornings.
Papua Paradise Resort:
Everything written above for Kri Eco resort is valid for this resort as well. The only exception is that each room have it's own toilet and shower. There is also hot water and the water used is fresh water. So you don't have to wait to go to the Hidden Bay to have a fresh water shower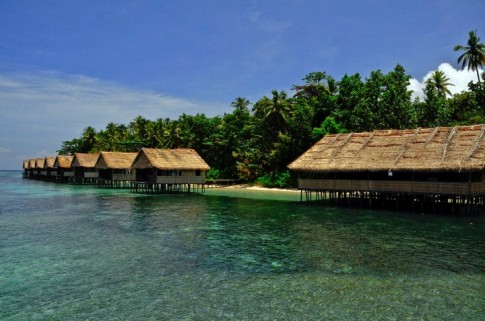 Derawan-Sangalaki-Maratua
Derawan Dive Resort:
Going there is an issue as well. You need to fly to Balikpapan and then to Berau, then take a two hour boat transfer to reach the island. Resort is located on the beach and rooms are on land. There is plenty of space for the kids to run around and play. Each room has it's own toilet, shower and hot fresh water. VIP rooms have TV sets.
I would recommend to take your own caretaker here. Food is nice but very local and you may find it boring after a few days. It may be good to have some back up in case you get tired of local spices and smells.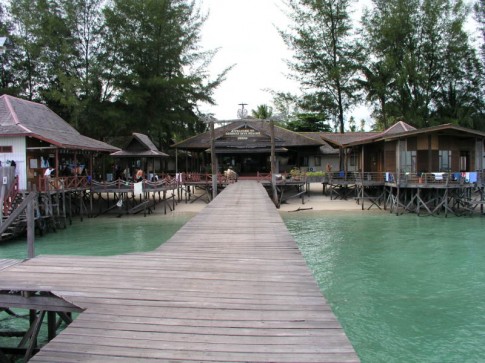 There is a small clinic on the island for emergencies, but I'd recommend that you take your the primary medicines with you.
I hope the information given have been useful to plan your holiday. I will write separate posts about Bali and Turkey as there's a lot to talk about these places. Please feel free to drop us an e-mail or comment if you have questions left unanswered.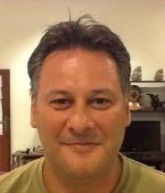 Tunç Yavuzdoğan
tunc@ayisigidiving.com
Resort and Destination Reviews from a Mother : Malaysia and Indonesia

,
Bizi Sosyal Medyada Takip Edin !
600
true
thumbnails
bottomright
300
true
800
none

600
true
dots
under
150
true
800
https://www.sualtigazetesi.com/wp-content/plugins/thethe-image-slider/style/skins/white-square-2