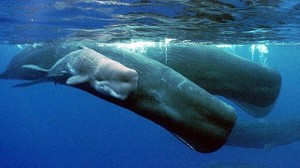 Whales, dolphins, and fish are suffering from human noise pollution – and the effects are getting worse.
Underwater noise pollution from things like shipping, seismic surveys and naval sonar is have an increasingly detrimental effect on marine wildlife, according to Dr. Lindy Weilgart, an expert in whale acoustics.
Weilgart will visit Charlottetown Thursday for World Oceans Day, and will attend a screening of the award-winning documentary Sonic Sea, narrated by Rachel McAdams.
"Naval sonar can cause whales to, within four hours, to start hemorrhaging in their vital organs like their heart and brain," Weilgart told CBC Radio: Mainstreet PEI's Angela Walker.
That's an extreme effect, she said. More commonly, underwater noise pollution reduces the geographic range of hearing for whales, dolphins and fish.
"Whales can potentially hear each other over thousands of kilometres, and if there's noise obscuring that channel, then it cuts it down to sometimes only a tenth of this distance," she said.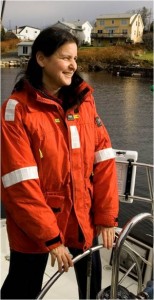 'Potentially devastating'
Weilgart, who has been studying whales since 1982, is an adjunct professor in the department of biology at Dalhousie University in Halifax and serves as scientific advisor for the International Ocean Noise Coalition.
"We try to change international laws and the law of the sea," she explained. "We work very hard to get visibility for this particular kind of pollution."
"What makes noise so potentially devastating is that it travels for such incredible distances, so something like a seismic survey for oil and gas can be heard over 4,000 kilometres," Weilgart said.
Weilgart would like to see ship designers create quieter vessels, alternatives to air guns used by the seismic industry, and naval sonar manoeuvre practiced in areas that are devoid of marine life.
She has been pleased with the willingness of the oil and gas industry to work on alternatives to seismic air guns, she said.
'This is really our livelihood'
The screening of Sonic Sea will happen Thursday at Holland College main campus in room 21C at 7 p.m. Weilgart will speak and answer questions from the audience after the film.
"The Maritime provinces are heavily involved in fishing and tourism, and this affects us very much," she said. "This is really our livelihood — if our seas aren't healthy, we won't be healthy."
"This should concern anyone that cares about the health of the sea and the economy, frankly," Weilgart said.
Source: cbc
600
true
thumbnails
bottomright
300
true
800
none

600
true
dots
under
150
true
800
https://www.sualtigazetesi.com/wp-content/plugins/thethe-image-slider/style/skins/white-square-2
5000

fade

https://www.sualtigazetesi.com/dadd-sunum-her-yonuyle-teknede-enerji-ve-enerji-sistemleri-zafer-turkmen/

5000

fade

https://www.sualtigazetesi.com/riza-epikmen-schuco-bayk-kis-trofesi-2-ayak-yarislari-oncesi-duygu-ve-dusunceleri/

5000

fade

https://www.sualtigazetesi.com/the-bodrum-cup-turkiyeyi-yelkencilik-dunyasinda-temsil-etti/

5000

fade

https://www.sualtigazetesi.com/banu-oney-ile-denizden-denize-marmarisden-seattlea-yelkenli-tekne-ile/

5000

fade

https://www.sualtigazetesi.com/rsx-kadinlar-sinifinda-2020-tokyo-olimpiyat-oyunlari%e2%80%99ndayiz/