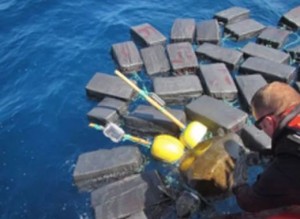 When the U.S. Coast Guard located 1,800 pounds of cocaine floating in the eastern Pacific Ocean last month, they weren't expecting to also free a loggerhead sea turtle that could have easily died without their intervention. While on patrol Nov. 19, 2017, the USCGC Thetis launched its Over the Horizon small boat to investigate a debris field. The boat crew discovered a large sea turtle entangled in multiple bales of suspected contraband.
The small bundles of cocaine were tied together to keep the packages from separating, and entangled in the plastic-wrapped bales was a loggerhead turtle, with a rope wrapped around its neck.
The cocaine was likely jettisoned by smugglers on a go-fast boat, commonly used for smuggling, when they learned the Coast Guard was nearby.
"Coast Guard Ens. Mark Krebs, the pursuit mission commander, said that as his team arrived on scene with the jettison field, they immediately noticed the entangled sea turtle," the Coast Guard said in a statement. "They saw significant chaffing from the lines on his neck and flippers. They briefed the commanding officer and went to work, carefully cutting the lines wrapped around the sea turtle and then eventually freeing him."
The crew also reeled in an additional 75 feet of rope to prevent other ocean animals from becoming entangled.
The cutter crew was part of Operation Martillo that targeted criminal organizations involving 18 countries. The crew seized 14,800 pounds of cocaine and 14 pounds of marijuana by the time it returned to the Key West port on Sunday, according to the news release.
Because the drug is usually transported by sea from Colombia, Venezuela and the Dominican Republic, the Coast Guard makes regular patrols in the region, and they've seen an increase in cocaine smuggling, seizing a record 188,700 kilograms (416,000 pounds) in 2016.
Sadly, it's just one example of the hazards faced by sea turtles globally. Tens of thousands of marine animals and seabirds die each year from eating or getting tangled in marine debris.
Source: sport diver
600
true
thumbnails
bottomright
300
true
800
none

600
true
dots
under
150
true
800
https://www.sualtigazetesi.com/wp-content/plugins/thethe-image-slider/style/skins/white-square-2
5000

fade

https://www.sualtigazetesi.com/deniz-kuvvetleri-kupasi-oncesi-murat-tan-atilla-gokova-yaris-ekibi-roportajlari/

5000

fade

https://www.sualtigazetesi.com/tayk-sunum-kuzey-kutup-dairesinden-guney-kutup-dairesine-gronland-ve-antarktika-prof-dr-talat-kiris/

5000

fade

https://www.sualtigazetesi.com/dadd-sunum-her-yonuyle-teknede-enerji-ve-enerji-sistemleri-zafer-turkmen/

5000

fade

https://www.sualtigazetesi.com/riza-epikmen-schuco-bayk-kis-trofesi-2-ayak-yarislari-oncesi-duygu-ve-dusunceleri/

5000

fade

https://www.sualtigazetesi.com/the-bodrum-cup-turkiyeyi-yelkencilik-dunyasinda-temsil-etti/

5000

fade

https://www.sualtigazetesi.com/banu-oney-ile-denizden-denize-marmarisden-seattlea-yelkenli-tekne-ile/

5000

fade

https://www.sualtigazetesi.com/rsx-kadinlar-sinifinda-2020-tokyo-olimpiyat-oyunlari%e2%80%99ndayiz/