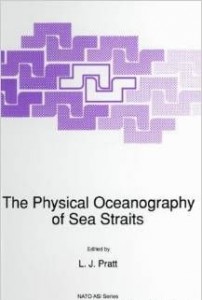 Suppose for a minute, what if you have been assigned the task to perform the mapping of the general circulation in some completely unfamiliar ocean. The ocean is sub-divided into several basins as well as marginal seas which, in turn, are connected with each others by means of the sea straits. Taking into consideration the possible budget limits for this task, you would most probably choose the sea straits as the starting points for the observation.
To start with, the ocean currents that flow between the basins, over the wide paths that can also be time-varying, are commonly confined to the relatively stable and narrow routes within those straits. Such confinement could result in the profound dynamical consequences, one of them being the choking/hydraulic control; subject process is quite similar to a process by which a dams are regulating the flows from the reservoirs.
Geometry of the funneling may lead to the significantly increased velocities and enhanced tidal modulation, which would in turn lead to the local instabilities, internal bores, plus jumps and mixing, and other events. Shortly, the straits shall be treated as the choke points being dynamically and observationally strategic and containing a broad range of physical processes, all of them being addressed within this book.
600
true
thumbnails
bottomright
300
true
800
none

600
true
dots
under
150
true
800
https://www.sualtigazetesi.com/wp-content/plugins/thethe-image-slider/style/skins/white-square-2