................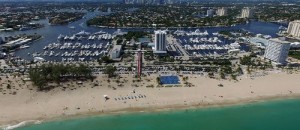 Sea Experience of Ft. Lauderdale, long renowned as an innovative career training center, announces an exciting new partnership with Ocean Education International and its founder, dive industry guru Dr. Alex Brylske. Beginning in mid-2019—in celebration of the 30th anniversary of Sea Experience's famous Resort Operations Specialist course—Dr. Brylske will direct an important new program called "ROS 2.0."
"As the original author of our ROS program we couldn't have found a more perfect individual to head up this project," says Sea Experience President, Bill Cole. "Alex has completely revised the curriculum to insure it reflects how the dive industry, the marine environment and travel consumer have changed over the past three decades since he first wrote the program."
"Obviously, I have a strong sense of ownership for the ROS program, and I'm honored to have the opportunity to bring the course into the 21st century," says Dr. Brylske. "I'm confident this entirely new course—ROS 2.0— will set a new standard for training dive professionals as well as help define sustainable tourism for the dive resort industry."
The new ROS program is part of Sea Experiences Phase 4 and consists of eight intense days of both classroom and open water training. Topics addressed in the course include: Merging Business and the Environment: A Guide to Marketing Sustainability; Coral Reef Ecology for Diving Professional; Environmental Interpretation: From Tourist to Advocate; Coral Reef Restoration: The Science and Practice; Sharks in Depth: From Conservation to Ecotourism. The course will also include case studies of dive operators from around the world who have successfully implemented environmental best practices and are now reaping the rewards.
Another major component of ROS 2.0 is certification as a Reef Check EcoDiver. This course teaches divers how to conduct surveys of the sea bottom (benthic characterization), along with how to identify invertebrate and fish species that are indicative of reef health. Once qualified, EcoDivers are then able to contribute to an online global database used by scientists and resource managers to assess the status of coral reefs.
About Sea Experience
The Sea Experience scuba diving school is located in beautiful Fort Lauderdale, Florida and is full service PADI Career Development Center licensed by the Commission for Independent Education through the Florida Department of Education. This ensures that your scuba career training is provided by a facility that meets the strictest standards not only required by PADI, but also the State of Florida. The dive school, dive shop, classroom, pool, dive boats and accommodations are all in one location. At the Sea Experience Scuba Career Training Facility, you will receive professional scuba career training that not only offers our students all levels of scuba diving, but also has daily scuba dives on the local reefs and wrecks. This means you are immersed in the scuba diving lifestyle that only an active dive center can provide.
About Ocean Education International
Ocean Education International (OEI) is a consulting firm focusing on environmental education and professional development services for the marine tourism industry, specializing in the recreational scuba sector. OEI's mission is to assist the marine tourism industry maximize profitability through increased environmental awareness and social
Source: sport diver
Diğer Konular
600
true
thumbnails
bottomright
300
true
800
none

600
true
dots
under
150
true
800
https://www.sualtigazetesi.com/wp-content/plugins/thethe-image-slider/style/skins/white-square-2

Bu konu şimdiye kadar