What do a skateboard, Ganesh statue, golf clubs and fake teeth all have in common? They are all odd items found by Dive Against Debris® volunteers since Project AWARE's flag ship citizen science program launched in 2011.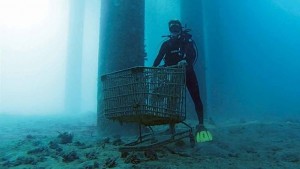 There's a vast array of debris items that divers are reporting through Dive Against Debris from the weird and whacky items to the usual suspects – plastic bags, drinks bottles and aluminum cans. With 150 million metric tons of mismanaged plastic conservatively estimated to make its way into the ocean by 2025, it sadly comes as no surprise that plastic items are consistently the top items – accounting for almost 70 percent of all debris items reported to date. Shocking? Wait until we tell you what the most bizarre and unusual discovery is to date: a "makeshift toilet" found in the murky depths of the Sheffield Canal in the UK.
During one of their regular Dive Against Debris surveys, a team of 40 divers, led by Diveworld Sheffield, uncovered a seemingly never-ending stream of debris that had been cluttering up the waterway.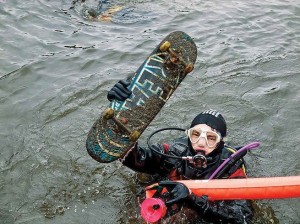 "Some of the items pulled out are really harmful to wildlife and could also pose problems for boats on the water," says Jon Horsfall, waterways manager at South Yorkshire's Canal and River Trust.
"We're really grateful to the volunteers for their efforts which were invaluable in making Sheffield's waterways cleaner, safer and just more enjoyable to visit."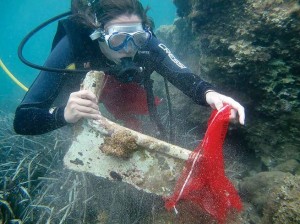 The findings of this particular Dive Against Debris survey highlighted the issue of fly-tipping. Steve Hird, PADI® master instructor at Diveworld, Sheffield Council and the Canal and Rivers Trust joined forces to raise awareness of the issue and worked together toward finding solutions to tackle the problem.
"It's really great to see the local community pulling together and the work is making a huge difference to the area," says the Cabinet Member of Environment at Sheffield Council about Diveworld's Dive Against Debris surveys.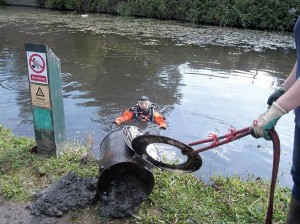 Since the program's launch in 2011, more than 20,000 divers have participated in Dive Against Debris surveys in more than 60 countries around the world, removing and reporting over 700 thousand items of trash.
As the only underwater debris data collection program of its kind, Dive Against Debris both improves the health of ocean ecosystems through localized volunteer efforts and provides valuable information about underwater debris – shining a light on an issue that has previously been disregarded as out of sight, out of mind for most of the public Take action to protect the ocean planet and help fight against marine debris. For more information visit, Project AWARE's website.
Source: Sport Diver
600
true
thumbnails
bottomright
300
true
800
none

600
true
dots
under
150
true
800
https://www.sualtigazetesi.com/wp-content/plugins/thethe-image-slider/style/skins/white-square-2
5000

fade

https://www.sualtigazetesi.com/4denizemeydanoku-film-gosterimi-akmnin-yesilcam-sinemasi-sahnesinde-gerceklesti/

5000

fade

https://www.sualtigazetesi.com/tayk-sunum-kuzey-kutup-dairesinden-guney-kutup-dairesine-gronland-ve-antarktika-prof-dr-talat-kiris/

5000

fade

https://www.sualtigazetesi.com/dadd-sunum-her-yonuyle-teknede-enerji-ve-enerji-sistemleri-zafer-turkmen/

5000

fade

https://www.sualtigazetesi.com/riza-epikmen-schuco-bayk-kis-trofesi-2-ayak-yarislari-oncesi-duygu-ve-dusunceleri/

5000

fade

https://www.sualtigazetesi.com/the-bodrum-cup-turkiyeyi-yelkencilik-dunyasinda-temsil-etti/

5000

fade

https://www.sualtigazetesi.com/banu-oney-ile-denizden-denize-marmarisden-seattlea-yelkenli-tekne-ile/

5000

fade

https://www.sualtigazetesi.com/rsx-kadinlar-sinifinda-2020-tokyo-olimpiyat-oyunlari%e2%80%99ndayiz/