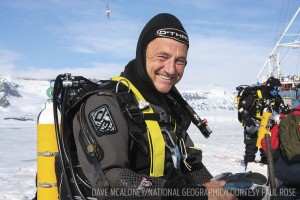 There is perhaps no more enviable a cocktail party guest than explorer Paul Rose. After serving 10 years as base commander for the British Antarctica Survey — the U.K.'s science base on the southernmost continent — and, more recently, as a host for the BBC, the man has stories.
There's the time he was lost under an iceberg, showing the figurative ropes to a scientist newly stationed at the South Pole. Their plan, to recover a lost sediment trap, was thwarted mid-dive when a berg broke loose, blocking their exit.
"We had so many heartbreaking moments where we could see light, and we'd think we were so close to an exit point and ascend, only to bang our heads again," says Rose. "Ultimately, only luck took us in the right direction." Staring down leopard seals and orcas isn't where the Essex, England, native thought he'd end up. Yet, from the go, he had designs on the field of exploration — or at least leaving England.
"I was constantly hunting for a way to escape that urban feeling," says Rose. "Of course, diving became part of the answer."
His career started with what he calls the classic dive life, certifying students and working as a commercial diver. On a lark, he became a mountain guide.
"I discovered something called 'science support.' Scientists working in remote places need people like me — divers, climbers, pilots and the like — to reach the areas where they conduct their research," says Rose. And so it was he came to Antarctica. McMurdo Station, a research facility belonging to the United States, put out a call for mountain guides to aid its team in ascending Mount Murphy, in one of the most remote mountain ranges on the continent. That first season became a proving ground, opening pathways to further exploratory expeditions. The best part, he says, is "I did not have to somehow magically pay for these experiences. I was getting paid."
For the next 10 years, Rose served as a field assist on the British and American sides of Antarctica, going on to become the base commander for the British side, assisting as scuba diving was brought to the base. At the time, every site was virgin territory to divers.
His teams were also the first to lay eyes on the wildlife underwater.
"I'd ask, 'What is that?' And they had no idea," says Rose. "Those were really wonderful days."
His expertise on diving Antarctica led to on-camera work with the BBC, including covering Arctic seas for the series Oceans.
Rose is still exploring, working with the Pristine Seas expeditions team run by National Geographic. He dives with scientists who catalog and describe what is found, and what is thus worth protecting. Through storytelling, he makes a case for what the researchers want to preserve.
For the career seeker looking to follow in his footsteps, Rose suggests breaking into science support any way possible, as a generator mechanic, chef, boat captain — anything else that will pay your way to remote areas.
Brooke Morton
Source: Sport Diver
600
true
thumbnails
bottomright
300
true
800
none

600
true
dots
under
150
true
800
https://www.sualtigazetesi.com/wp-content/plugins/thethe-image-slider/style/skins/white-square-2
5000

fade

https://www.sualtigazetesi.com/tayk-sunum-kuzey-kutup-dairesinden-guney-kutup-dairesine-gronland-ve-antarktika-prof-dr-talat-kiris/

5000

fade

https://www.sualtigazetesi.com/dadd-sunum-her-yonuyle-teknede-enerji-ve-enerji-sistemleri-zafer-turkmen/

5000

fade

https://www.sualtigazetesi.com/riza-epikmen-schuco-bayk-kis-trofesi-2-ayak-yarislari-oncesi-duygu-ve-dusunceleri/

5000

fade

https://www.sualtigazetesi.com/the-bodrum-cup-turkiyeyi-yelkencilik-dunyasinda-temsil-etti/

5000

fade

https://www.sualtigazetesi.com/banu-oney-ile-denizden-denize-marmarisden-seattlea-yelkenli-tekne-ile/

5000

fade

https://www.sualtigazetesi.com/rsx-kadinlar-sinifinda-2020-tokyo-olimpiyat-oyunlari%e2%80%99ndayiz/