................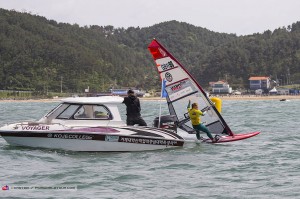 Jenna Gibson On Being Crowned 2018 Youth PWA Slalom World Champion
Jenna Gibson (Fanatic / DuoTone) only made her debut in 2017, but even in her first event the Brit looked as though she could be a threat on the world stage when finishing 6th. 2018 represented Gibson's first full year on tour and she walks away with an excellent 6th place in the overall rankings, while also winning an elimination in South Korea, which sees the 21-year-old crowned the Youth PWA Slalom World Champion for the season. After promising first full year on tour we caught up with Jenna for an interview which you can read below:
Hi Jenna, how does it feel to be the 2018 Youth Slalom PWA World Champion?
It feels amazing, I still can't believe it.
You only made your debut on the world tour in 2017 – where you finished 6th in Denmark – what were your expectations coming into this season and how did you prepare?
Denmark showed I especially needed to work on my high winds and starts. I spent 3 months in Tenerife over the winter training at the TWS which helped enormously. We raced in all conditions.
You finished 6th overall in your first overall season – how do you feel about that? What do you think you did well this season and where do you think you could improve going forwards?
I'm happy that I was competitive in all conditions this year, having raced on all sizes sails from 8.4 to 4.7 I felt I had a good set up, but by next year I want to have improved my consistency, by working on my fitness and getting on the water as much as possible.
When did you start windsurfing and what is it about slalom that you like? Have you always had a racing back ground?
I started windsurfing when I was 12. Until I discovered slalom, I raced mostly longboard and later a bit of formula. I love the quick, high adrenaline nature of slalom.
What are your goals for the future?
The ultimate goal would of course be to have a senior world title. More realistically for now it's to keep climbing the results ladder, to improve year on year and to keep enjoying racing as much as I am!
Out of the events you have attended so far, where has been your favourite event and why?
The conditions we had in Portugal were the best imaginable for me, I loved being out in the strong winds. I was really inspired by the other girls' racing in those conditions, gybing as if it was only 20 knots when it was 50! They don't have a survival mode!
If you had to pick one highlight from this season – what would you pick?
It's got to be my race win in Korea, I had such great speed on my 6.2 and in that race everything came together perfectly!
What would be your perfect day?
A windy day on the water with my whole family and boyfriend.
Do you have any superstitions?
None, but I do believe that at competitions, if you don't rig all sail sizes, it's jinxed that those conditions will turn up in racing when it's too late for you to rig!
Which living person do you most admire?
I would say Sarah-Quita Offringa. She is so humble and friendly, definitely someone to be looked up to.
What is your greatest fear?
The one that affects me the most is my fear of water animals, it's crazy for someone who is in the water so much! But as long as I can't see them I am okay.
What is your most treasured possession?
My car! It's gets me to the beach with my kit when it's windy, what more could I want?
Where would you most like to go to that you haven't been to yet?
New Caledonia looks like an amazing place to windsurf. I hope to race there one day.
Who would you most like to have as a dinner guest, dead or alive?
Anyone who is wants to cook it!
Most visited website?
YouTube, I'm always watching windsurf videos and tutorials.
First App you open in the morning?
When there's a chance of windsurfing, I definitely open Windy first!
Favourite food and drink?
A barbecue is my favourite food! Water is actually my favourite thing to drink.
If you could have a super power what would it be?
To be able to fly! But I guess my BUG foil is pretty close to that…
A phrase you live by?
Life is like a coin, spend it however you want, because you can only spend it once.
Anything else you'd like to add?
Thanks to my sponsors for such great kit this season, and family and friends for the ongoing encouragement and support.
Thanks, Jenna. Congrats again and see you back competing next year!
Source: PWA
Diğer Konular
600
true
thumbnails
topleft
300
true
800
http://www.sualtigazetesi.com/wp-content/plugins/thethe-image-slider/style/skins/white-square-1


Bu konu şimdiye kadar