................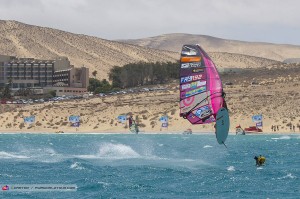 Day 6: Writing On The Wall As Albeau Makes Dream Start With Back-To-Back Bullets
After 3 light wind days, Fuerteventura returned to its normal self for the opening day of the Slalom, which allowed two and a half races to be completed in nuclear winds, which saw most of the competitors reaching for their small boards and 6.2-6.4s. However, today belongs to one man only… Antoine Albeau (RRD / NeilPryde) after he destroyed the rest of the fleet to end the day with a perfect record – two bullets from the two races completed.
Slalom
The writing is already on the wall for the rest of the slalom fleet with Antoine Albeau (RRD / NeilPryde) making a flying start to the slalom by winning both eliminations today. The 24-time world champion is a formidable force in any destination, but here it seems he is almost unbeatable, boasting an incredible record of winning every year here since 2006 – except in 2012. And even at this early stage, after such a blistering start, it's hard to see anyone denying him a 5th consecutive event victory in Fuerteventura.
Pierre Mortefon (Fanatic / Duotone / Chopper Fins) is Albeau's closest rival at the close of play after also making an excellent start with a 2nd and a 3rd. The 29-year-old has earned 3 podiums from the first 4 events and looks as though he'll be right in the thick of the action again after a promising first day. Whether he or anyone else can challenge Albeau though remains to be seen. Mortefon currently trails Albeau by 3.6 points.
The top two currently look quite solid with Jordy Vonk (Fanatic / Duotone) a further 5 points behind Mortefon, but the flying Dutchman, who is enjoying his best season to date, will be delighted with his start today. Up until now Vonk's best result here is a 14th last year and he is well ahead of schedule to better that. The 25-year-old finished 7th in the opener before claiming 3rd in the second elimination.
Current world tour leader – Matteo Iachino (Starboard / Severne / Shamal Sunglasses) – suffered a slightly disappointing day, but still finds himself in 4th place. The Italian was battling for the lead in the final of the first elimination but went down when fighting for the lead with Antoine Questel (Starboard / S2Maui) at the second mark. Iachino made a quick recovery and still managed to secure 4th place in the opener, before he, Questel and Maciek Rutkowski (I-99 / Challenger Sails) were all disqualified for premature starts in the second final and had to settle for joint 8th. Iachino will now look to reduce Albeau's advantage in order to not lose ground on the title race.
Julien Quentel (Patrik / Avanti) carved his way through the pack numerous times to qualify for the opening winners' final where he was able to avoid Iachino and Questel to grab second place, but then surprisingly dropped his opening gybe in the semifinals. Quentel still finished 12th overall for the second elimination but missed a slight opportunity to be higher ranked.
Meanwhile, Arnon Dagan (RRD / NeilPryde) looked quick throughout and finishes the opening day in 6th place after a 5th and 10th, while Antoine Questel is just a point further back after two, eighth places. Cyril Moussilmani (RRD / Severne) finds himself a further 4 points back after a 6th place finish was followed up with a 14th.
One year on from suffering a potentially career-threatening injury – Ethan Westera (Tabou / GA Sails) – showed that not only has he showed a tremendous amount of character to bounce back, but that he is also sailing somewhere close to the best he ever has. The 20-year-old won the b-final in elimination one, before securing another top 16 result in the next.
The top ten is currently completed by Italy's Andrea Ferin (RRD / Challenger Sails / AL360), who also recorded two top 16 finishes – 13th and 14th.
Marco Lang (Fanatic / Duotone) must have come into Fuerteventura thinking that he was finally over the illness/virus that he has been suffering from since South Korea, but unfortunately, it would seem that everything is still not okay. The Austrian, who won the event in Sylt last year, looked blisteringly quick again, but after almost blacking out while in the lead of Heat 9, he suffered a quarterfinal exit in the first race. Things then went from bad to worse as Lang's fin broke when leading Heat 7 and the 29-year-old cut a very frustrated figure when returning to the beach.
The forecast predicts that tomorrow will be even windier, which should almost guarantee more world-class racing. The sailors will meet again tomorrow morning at 10am for the skippers' meeting with the action commencing from 10:30am (GMT+1) onwards.
To stay up to date with all the latest developments from Fuerteventura — including the live stream, elimination ladders, entry list, images and live ticker simply click HERE and scroll to the bottom of the page.
Current Rankings 2018 Fuerteventura PWA Grand Slam – Men's Slalom
*After Two Eliminations
1st Antoine Albeau (RRD / NeilPryde)
2nd Pierre Mortefon (Fanatic / Duotone / Chopper Fins)
3rd Jordy Vonk (Fanatic / Duotone)
4th Matteo Iachino (Starboard / Severne / Shamal Sunglasses)
5th Julien Quentel (Patrik / Avanti)
6th Arnon Dagan (RRD / NeilPryde)
7th Antoine Questel (Starboard / S2Maui)
8th Cyril Moussilmani (RRD / Severne)
9th Ethan Westera (Tabou / GA Sail)
10th Andrea Ferin (RRD / Challenger Sails / AL360)
Source: PWA
Diğer Konular
600
true
thumbnails
topleft
300
true
800
http://www.sualtigazetesi.com/wp-content/plugins/thethe-image-slider/style/skins/white-square-1


Bu konu şimdiye kadar